Meet Chiropractor Aaron D'Amico D.C.
Early Experience With Care
My journey began growing up in a chiropractic family where my father (Dr. Kevin D'Amico D.C.) also practiced Chiropractic Care here in Calgary AB. Being brought up in this type of atmosphere, the health and wellness path caught my eye. When I was a young boy, as boys do, I had several injuries. Lucky enough for me, my dad was there to take care of me during these crazy times. As I grew older and saw the health benefits that chiropractic provided, I knew this was what I wanted to do for the rest of my life.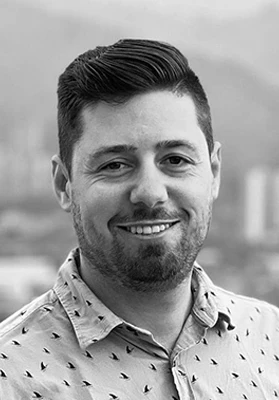 This is how and why I chose to become a chiropractor and led me to practice in Calgary AB at Chiropractic Center for Health.
"I feel the best way to achieve a healthy lifestyle is to follow a C.R.E.A.D., this means Chiropractic treatment, adequate Rest, regular Exercise, a positive Attitude and a healthy Diet."

- Dr. Aaron D'Amico D.C.
Chiropractic Education
Dr. Aaron D'Amico D.C. achieved his Bachelor's Degree in Health Sciences at Mount Royal University in Calgary, Alberta. While at Mount Royal University, he also obtained his Minor in Chemistry and aided in a research publication.
He then went on to pursue his dream of becoming a Chiropractor and attended Palmer West Chiropractic College in San Jose, California. Here his advanced education reinforced his belief of the amazing and wonderful outcomes that chiropractic could achieve.
Dr. Aaron D.C. is a hands-on kind of chiropractor who does specialized soft tissue work as well as adjustments. Here he is certified in other chiropractic modalities such as Active Release Technique®, Instrument assisted soft tissue massage (Gavilán®), and taping.
During Dr. Aaron D.C.'s training, he volunteered his time and services with many sports-related events throughout the California area helping athletes optimally perform in their events. Some of these included:
San Jose University Rugby team
Santa Cruz, California Surfers Path Marathon
Monterey, California Sea Otter Classic bike competition
San Jose, California Turkey Trot Marathon
San Francisco, California Escape from Alcatraz Triathlon
Outside The Office
To help pay for his education, he worked in the labor and trade industries. This has given him immense respect for those that dedicate themselves to these professions.
Currently, you can find Dr. Aaron D.C. watching his Calgary Flames in action or playing hockey as a defenceman on the ice. He also enjoys Snowboarding, playing squash, soccer, or going hiking with family and friends. Because of the very active lifestyle, Dr. Aaron D.C. leads, he gets weekly adjustments to help maintain his healthy lifestyle.
OFFICE HOURS
---
Monday
9:00am - 7:00pm

---
Tuesday
9:00am - 7:00pm
---
Wednesday
9:00am - 7:00pm
---
Thursday
9:00am - 7:00pm
---
Friday
9:00am - 6:00pm
---
Saturday
9:00am - 4:00pm
---
Sunday
10:00am - 4:00pm