Meet Brock Farkas - Massage Therapist
Brock was born and raised here and is proud to call Calgary AB home. He has had an interesting path to becoming a massage therapist. He attended and played for the University of Calgary Dino's football team, then became a fitness instructor but with the pandemic that put his instructing days on pause. During the lock down he discovered that his true calling was helping people on the road to well-being. Since then he has graduated Vicars School of Massage Therapy (Formally M H Vicars) and is very excited for the opportunity to work with you! He provides an inclusive safe space for all, with a focus on myofascial release, remedial exercises, and has many techniques in Calgary AB to help calm your muscles and mind.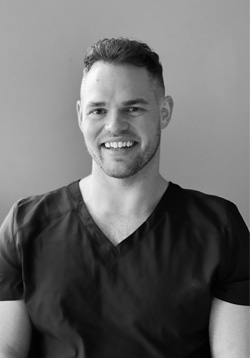 Brock knows how to treat postural dysfunction, edema (swelling), overuse injuries like tendinitis and more. He wants you to have the best experience possible and will ensure to modify treatments to your level of comfort. He wants to take a moment to thank you for reading his bio and is looking forward to being part of your healing journey.
OFFICE HOURS
---
Monday
9:00am - 7:00pm

---
Tuesday
9:00am - 7:00pm
---
Wednesday
9:00am - 7:00pm
---
Thursday
9:00am - 7:00pm
---
Friday
9:00am - 6:00pm
---
Saturday
9:00am - 4:00pm
---
Sunday
10:00am - 4:00pm